Rendezvous with Dr. Atmanand
Ranked among the top private B-schools in India, Management Development Institute is a pioneer in providing management education. Recently, the team at MBA Rendezvous had the pleasure to speak to Dr. Atmanand, Director (Additional Charge), MDI Gurgaon and Director, MDI Murshidabad. We spoke to him about his vision for MDI, various campus initiatives, action plan, and his management mantra.
About Dr. Atmanand
A multi-faceted personality, Dr. Atmanand is an educationist, corporate leader, policy maker/ influencer, and author encapsulated in one. He is the recipient of the coveted Rashtriya Gaurav Award for his contribution in nation building, Indian Achievers Award for Corporate Leadership in 2010 and Economic Development Award for Excellence in Higher Education in 2011. He is an avid researcher in the field of energy and power for the last 32 years. His association with the MDI family is almost 21 years' now and is one of the key shapers of its intellectual policies and leadership functioning. In addition, he is the Independent Director on the Board of Central Bank of India, Power Trading Corporation of India Ltd. and (previously) Steel Authority of India Ltd. (SAIL), Government of India. He has authored 16 books and published more than 90 research papers in refereed national and international journals.
Excerpts from Dr. Atmanand's interview:
The MDI Journey
I joined MDI Gurgaon as Director (Additional Charge) on 4th October 2018. Before this, I was the Founder Dean of MDI School of Energy Management and MDI Murshidabad. I was also the Dean of Executive Post Graduate Programs and School of Public Policy and Governance. I joined with a strong desire to build MDI Gurgaon as a world-class educational institute. With the help of an outstanding faculty, we have been able to drive sustainable growth, achieve brand positioning and quality in areas such as academic curricula & partnerships, corporate & industry outreach, research output and administration of faculty.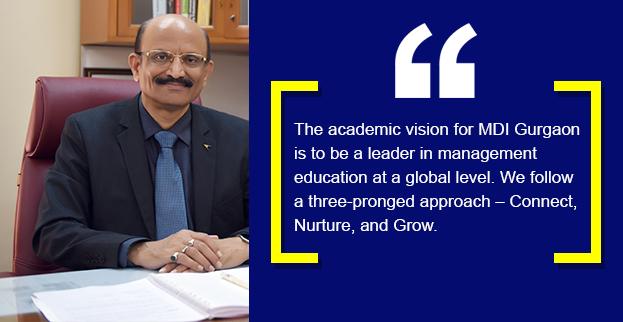 Academic Vision
The academic vision for MDI Gurgaon is to be a leader in management education at a global level. We follow a three-pronged approach – Connect, Nurture, and Grow.
We are on a path that holds exciting opportunities and significant challenges for us. We want to excel and achieve new and higher academic position continuously. We can accomplish this by keeping our core curriculum updated and following an interdisciplinary approach in research, consulting, and teaching.
Action Plan for MDI
My action plan for MDI is crystal clear:
Hire more faculty with a strong research track record
Align an incentive structure with faculty development policy and programme and motivate them to produce high-quality research publications, bring in more MDP's and consulting assignments. This will bring in more laurels and achievements for MDI
Invest heavily in eLearning at MDI. I plan to create a very vibrant digital platform in partnership with a technology company and build the capacity of faculty for adopting eLearning in a massive way
Focus on the betterment of campus infrastructure, like better MDP housing and digitally better-equipped smart classrooms that will connect the campus with the outside world
5. Create an extensive sports facility as well as the excellent recreational facilities for students
New Initiatives at MDI Gurgaon
MDI Gurgaon offers world-class management education programmes, action-oriented research, and value-added consultancy. Several new initiatives were taken in the past year to strengthen MDI's position and brand. Some of the key actions taken in the area of academic programmes, research, and consultancy are:
Knowledge Dissemination - Academic Programmes

On January 7, 2019, we signed an MoU with the Haryana Institute of Public Administration (HIPA) for imparting and enhancing professional knowledge and skills in the field of Public Policy Administration

We have proposed for additional 60 seats in Post Graduate Programme in Management (PGPM) to mark 25 years of the two-year full-time flagship programme

The twinning programme has helped bridge the gap between demand and availability of quality international management courses in India. This gives our students an international perspective. To keep up with the demand, we got AICTE approval for additional 60 seats for PGP-IM. The programme has started from academic session 2019
We have taken steps to revive the Energy Management Programme with Indian Oil Corporation Limited, with a capacity of 60 seats

We also initiated the launch of short-term certification courses of three- and six-months' duration each, through online and offline modes

Knowledge Creation – Research & Consultation

Our faculty members published 8 books, 67 research papers and case studies in leading national and international journals, including Harvard Business Review and Journals from FT50. They have received awards & recognition at various forums like that of Academy of Management
33 faculty members from MDI presented their research at national and international conferences
46 faculty members contributed to academic citizenship through various activities
"Vision" - MDI's research journal, has now been included in the globally benchmarked research index Scopus, which is Elsevier's abstract and citation database
Our faculty members were involved in completing several sponsored projects and consultancies with agencies such as SJVN Limited, Security Printing and Minting Corporation of India, and Indian Railways and Finance Corporation
We were also involved in the preparation and publication of an Information Booklet designed as a Coffee Table Book, for the Department of Urban Local Bodies, Municipal Corporation, Haryana
MDI Gurgaon enhanced its capabilities in digital infrastructure by implementing ERP in HR and Finance and upgraded the network infrastructure. We have introduced RFID integration at the library and installed software to enable learning simulations, games, etc. A Bloomberg Finance Lab was set up with 8 Bloomberg Terminals which supports advanced applied research in financial markets and equips finance students/ managers with the mathematical and conceptual theories. Renovation of classrooms and hostels is underway, and we have been making efforts to reduce our overall thermal energy consumption in our campus. A new lounge was built for the faculty members. Four new classrooms with modern amenities have been built.
The faculty members play a critical role in mentoring students and creating/expanding the knowledge pool of any business school. We recently revised the faculty and staff allowances which was due since long.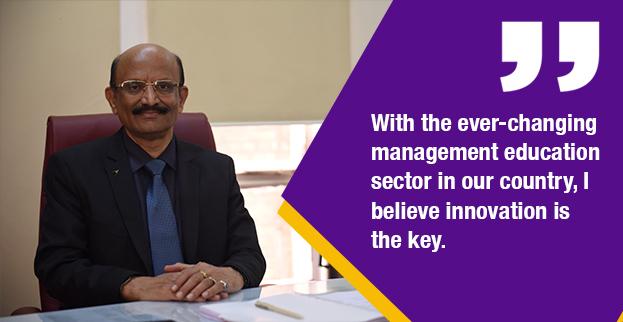 New Initiatives at MDI Murshidabad
Since its inception in 2014, MDI Murshidabad has been tirelessly working towards achieving global quality standards for business and management education. We were awarded A* (A Star) at National level and A*** (A triple star) at State level, by CRISIL in November 2018. NHRDN ranked MDI Murshidabad as no.1 in the category of Emerging Business Schools in India in the year 2019. We also become a member of the prestigious Association of Management Development Institutions in South Asia (AMDISA) starting April 2019 until March 2024. In the past year several initiatives have been taken at MDI Murshidabad:
Our students participated in Live Projects to enhance their knowledge and experience. 12 live industry projects were completed on various industries located in Murshidabad, West Bengal region
With the approval of AICTE, we have increased 60 seats in Post Graduate Programme in Management (PGPM) at MDI Murshidabad from the academic session 2019
We have taken steps to increase our international outreach by developing educational ties with SAARC countries such as Bhutan, Bangladesh, Myanmar and Nepal
An MoU was signed with Dhaka School of Economics, Bangladesh for joint academic, research and training programmes
MDI Murshidabad also conducted international MDPs for Dhaka School of Economics and Bangladesh Banks
The first International Conference on "Sustainability Development: A Value Chain Perspective" was held on September 7 to 8, 2018
We will be publishing the first edition of our Journal, namely MDI Business Review very soon

The faculty members have published a large number of Research papers and case studies in high impact factor International / National Journals

A state-of-the-art Bloomberg Finance Lab powered by 4 Bloomberg Terminals was set up in December 2018

The institute signed MoU with Power Grid Corporation of India Ltd (PGCIL) to do training programmes, research and consulting
Future of Management Education in India
With the ever-changing management education sector in our country, I believe innovation is the key. There is a massive workforce demand in start-ups, e-governance, cybersecurity, agribusiness & food processing, artificial intelligence, and machine learning. We must diversify ourselves by offering highly specialized short-term and long-term courses in these areas. Further, we plan to achieve educational excellence by achieving three things at MDI Gurgaon:
Industry-oriented curriculum following global best practices

Strong academic growth plan

Robust governance
Management Mantra
I believe that doers are major thinkers. That's how I define myself – I am doer and thinker in one person. The definition of the term management is given in Riga Veda, and the last verse of Bhagwad Gita talks about a 'transformational leader.' To be a great leader, one must join the first and last words of Bhagwat Gita and understand its meaning – muma dharma – (मम् धर्मः) which means our responsibility & accountability towards ourselves, our family, organization, society, and nation.
Motivation to be a Leader
The three things that motivate me to be a leader in business school are to be able to contribute more than what I receive, teamwork & team spirit, and the happiness of people around.
To Learn more from Dr. Atmanand Visit Here
Stay informed, Stay ahead and stay inspired with MBA Rendezvous